Chairs Hire Brisbane
Your chairs and tables often form the basis of your event styling; when you need chairs hire Brisbane, get in contact with our team at You're Invited Event Hire and allow us to assist you to furnish your event with outstanding style and functionality.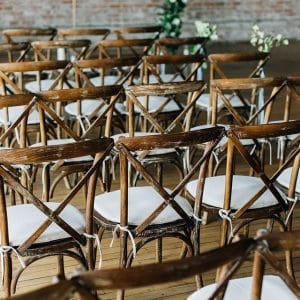 Chairs hire in Brisbane and surrounding areas.
Is it a wedding, birthday, corporate function or something else that you are hosting? Regardless of the occasion, if you need table and chairs hire in Brisbane, be sure to contact You're Invited Event Hire first. Our team is proud to be considered one of the most progressive and reputable companies in party and event hire in southern Queensland, with extensive experience in outfitting both small and large scale events.
Exceptional quality and complete functionality in chairs hire Brisbane.
You can be sure that you will be impressed by You're Invited Event Hire's range of Brisbane chairs hire products. All of our table and chair hire products are excellent quality, strong and sturdy and come in a number of styles, sure to suit the needs of any event.
Let our team of expert staff work with you to decide which tables and chairs are most appropriate for your event. From there, we can build on your vision with our extensive range of event hire accessories, so that we can help you to bring your dream event to life! We are so pleased to offer a complete range of hire products and equipment, so that you don't need to look any further to find the perfect items for your function. You're Invited Event Hire keeps a comprehensive range of plinths, table linens, cake stands, and a number of other accessories and decorative props that you might need in order to obtain the look you're wanting.
You're Invited Event Hire is your number one choice for chairs hire Brisbane.
If you are looking for quality and convenience in chair hire in Brisbane, make You're Invited Event Hire your first port of call. We boast a comprehensive range of Brisbane chair hire products that are appropriate for use at all types of functions: corporate functions, birthday parties, weddings, or anything else, regardless of whether the event is to an indoor or outdoor function.
We also understand that sometimes choosing can be confusing! If perhaps you aren't sure how many chairs or tables you might need, or style of chairs will be best for functionality and aesthetics for your function, our team of experienced staff can talk you through the selection process, working closely with you to bring your ideas to life!
Get in touch with us at You're Invited Event Hire for chair hire in Brisbane the surrounding area.
If you're needing Brisbane chair hire, get in touch with our friendly team here at You're Invited Event Hire right away. Our team of staff has a wealth of experience in the events industry and is always ready to help you work out what you will require so that you can achieve the function and aesthetic that you're after. We take a lot of care to ensure that we provide a timely and reliable service to all of our clients, availing them of highest quality, on-trend event hire items.
You're Invited Event Hire is committed to delivering our clients excellent, stand-out customer service. We want your next event to be a massive success! Please reach out to our friendly and knowledgeable team and discover how we can help you, today.